This piece was originally published in Classical Post.
Brandon Lopez's new solo album quoniam facta sum vilis is out, and it needs to be listened to in its entirety. The album constantly morphs from one musical idea to the next while maintaining its structural congruity as a work.
Lopez says, "Process is a huge part of my practice. For me, It has proven to be consistently engaging and interesting. Dealing directly with the irrational and chaotic aspects in performance leads me to find new processes, new ways of thinking. And my hopes are to impart some of that to the listener, though they aren't beholden to any of these views."
New York-based composer and bassist Brandon Lopez works at the fringes of jazz, free improvisation, noise and new music. His music has been praised as "brutal" (Chicago Reader) and "relentless" (The New York Times). As a performer he opened the 2018–2019 season of the New York Philharmonic as a featured soloist in Ashley Fure's Filament. Lopez is a 2019-2020 Artist in Residence at Roulette Intermedium.
The opening track vanitas is constantly shifting and sets the severe tone for the album. It is at moments groaning, pulsating, disturbed, free, and churning. The title vanitas implies transience of life, ephemerality, and death. Vanitas is a reference to a style of still life painting during the 17th century in the Netherlands that urged the viewer to repent and consider their own mortality. While similar to the memento mori still life, the difference is that a vanitas uses objects to remind the viewer of the worthless vanities of life. These are depicted as musical instruments, wine, and books.
The term vanitas originally came from the opening lines of the Book of Ecclesiastes in the Bible: 'Vanity of vanities, saith the Preacher, vanity of vanities, all is vanity'.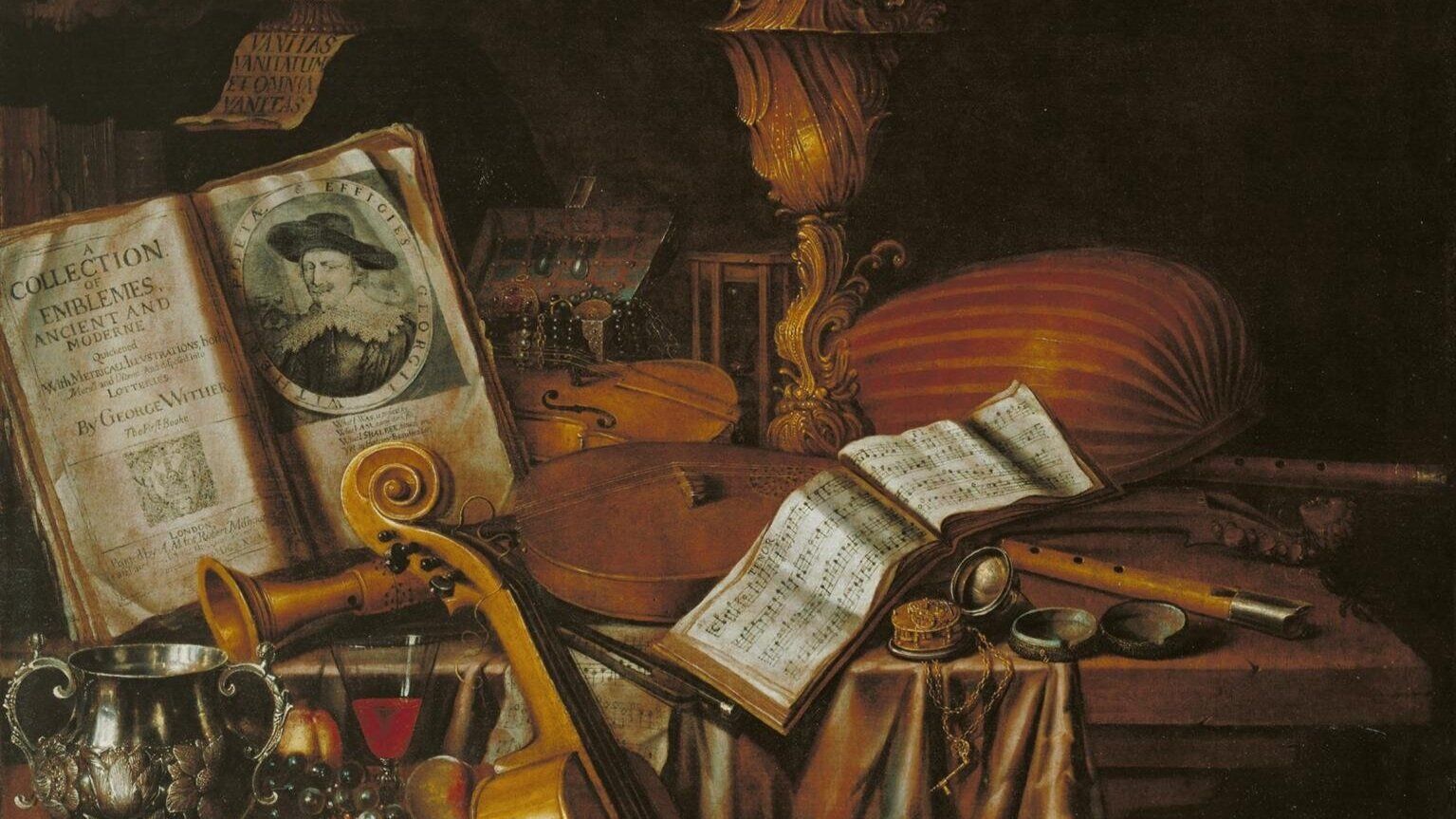 Lopez says, "I grew up a catholic. While I don't buy into much of that catholic ideology, I do love the aesthetics of medieval and renaissance art." The idea of a vanitas translates musically in this album: just as one gets used to a musical thought, it's over.
When called attention to this, Lopez says, "I'm in love, aesthetically, with depictions of mortality. Unsure of the effect on the music. I think the mind makes sense of whatever is put in front of it."
Yes, the mind often does this. In this case however, the transience of musical ideas and the concepts introduced by the track titles and the album name are in alignment. The album name quoniam facta sum vilis, which translates to "I have become vile in the eyes of the lord", further supports the idea that the album is correlated with transformation. Quoniam facta sum vilis is a reference to Baruch, 1. The Book of Baruch is a deuterocanonical book of the Bible in some Christian traditions. This text in Baruch 1 is directly followed by "Lamed", which is the twelfth letter of the Hebrew and Phoenician scripts. Lamed is also the title of the seventh track on quoniam facta sum vilis.
Two things that might immediately strike the listener about this album are the vocalizations and the use of extended techniques. When listening, one might wonder if electronics play a role.
He said, "In the two performances where this music was realized, I used just a double bass and an amplifier. I don't use electronics or prerecorded tracks, mostly because I enjoy the difficulty of creating a piece in real time and I'm also a bit of a luddite."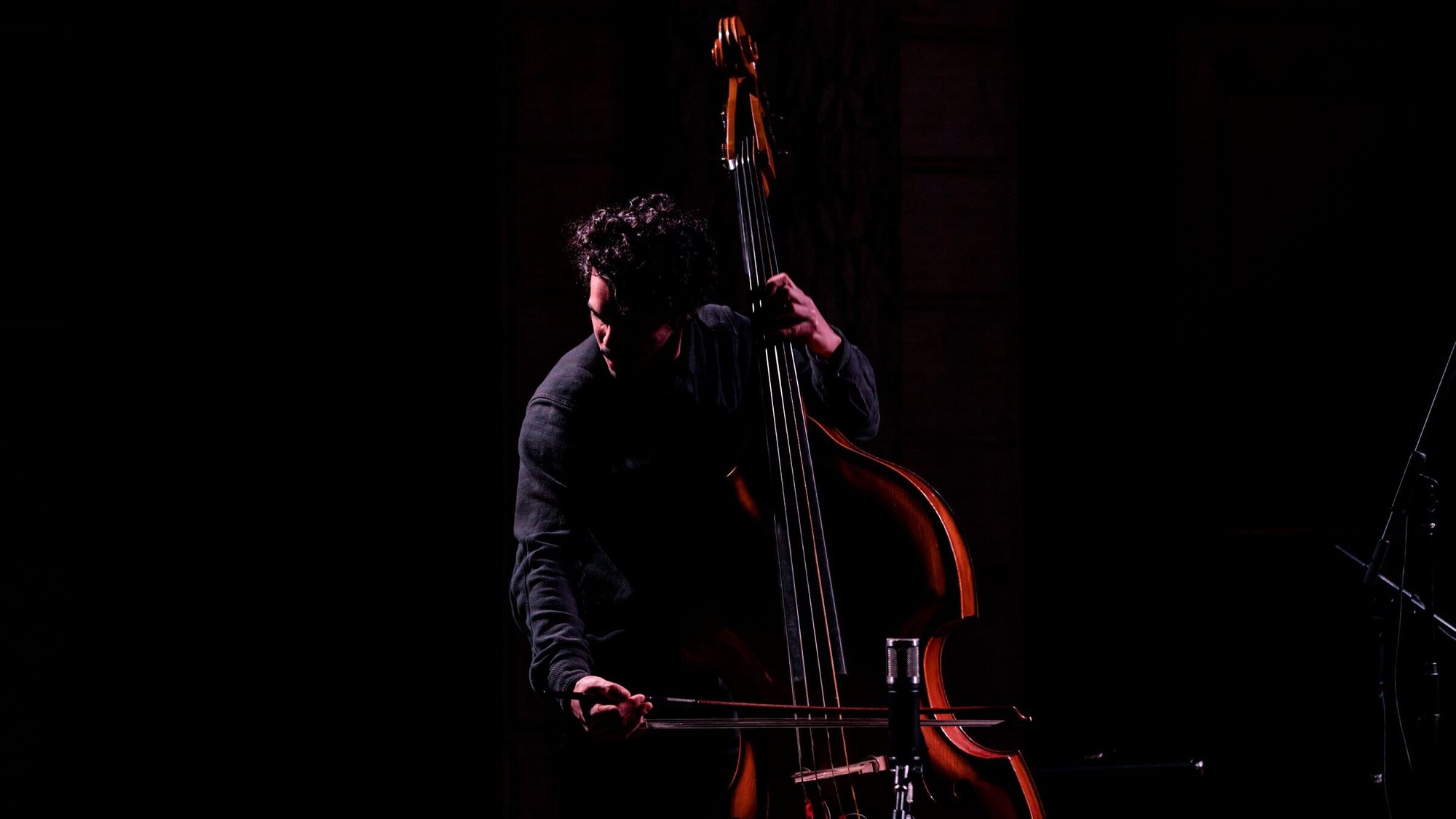 It wasn't surprising when Lopez shared that he learned rudimentary percussion. In and the deep indoors he used this background to expand upon a technique where one places the bow in between the strings, which is how he found a sound reminiscent of gasping and thrumming raindrops.
Lopez says, "I personally dislike the term 'extended-technique' as it seems to imply a first and correct way of approaching an instrument. My personal practice is informed by many great improvisers, composers, songwriters, producers, musical thinkers who pushed the limits of our listening."
When asked about the role of vocalization in his practice, he said "I think, like most, my first instrument was my voice, which may or may not have something to do with that. But the humming/groaning isn't particularly a conscious effort. Thelonious Monk apparently groaned while playing. Eddie Palmieri's voice is extremely audible."
The entirety of quoniam facta sum vilis is improvised. On the use of notation in his practice Lopez says, "I avidly try to avoid notation in solo performance. For me, a profound difference in the Western European tradition of notated music and that of 'improvised' music is the listening experience. Notation seems to have taught us to listen for the execution of a process, rather than listening to the process itself."
Lopez's extensive background in free improvisation and jazz allow him to freely create a cohesive work. Listen to the beginnings of vanitas and Pa consecutively, you might notice that they are similar. Pa is the 5th track of 8, placing it here creates a second beginning and gives the album a sense of unity. There is a shift that happens after Pa, and things can't return to the way they were.
In the first four tracks there are moments of respite and beauty amidst the chaos. After Pa, the sounds are harsher and it is a violent new landscape. There is a sense throughout the second half of desperately trying to get somewhere but being unable to do so. By transforming into this brutality, the album lives up to its name.
BRANDON LOPEZ
New York-based composer and bassist working at the fringes of jazz, free improvisation, noise and new music. His music has been praised as "brutal" (Chicago Reader) and "relentless" (The New York Times).
From the New York Philharmonic's David Geffen Hall to the DIY basements of Brooklyn, Lopez has worked beside many luminaries of jazz, classical, poetry, and experimental music, including Fred Moten, John Zorn, Okkyung Lee, Ingrid Laubrock, Tony Malaby, Tyshawn Sorey, Bill Nace, Chris Potter, Edwin Torres, Tom Rainey, Cecilia Lopez, Sun Ra Arkestra, Susan Alcorn, Mette Rasmussen, and many others.
As a 2019–2020 Artist in Residence at Roulette, Lopez will play with his trio consisting of Gerald Cleaver, & Steve Baczkowski, a 4tet adding Cecilia Lopez, as well as a solo performance and duet with Greg Kelley. This continues Lopez's work as 2018 Artist-in-Residence at Issue Project Room and 2018 Van Lier Fellow at Roulette Intermedium, Recent highlight performances include opening the 2018–2019 season of the New York Philharmonic as a featured soloist in Ashley Fure's "Filament" and a number of works with John Zorn, including the Zorn's 35th anniversary of "Cobra".