It's post-apocalypse, humans are no more, and nuclear waste has poisoned the planet. Now what? This may sound like a dispiriting premise for an opera, but songwriter/vocalist Gelsey Bell's mɔɹnɪŋ [morning//mourning] is anything but. Using a wealth of research and boundless imagination, the thought experiment that Bell explores in this musical work spirals into expansive time scales, a highly intelligent species of octopus called "blooklung," and inter-terrestrial visitations – all with a sense of playfulness, sincerity, and care.
After years of workshopping and delays due to Covid, Bell's mɔɹnɪŋ [morning//mourning]  had an extended run at HERE Arts Center as part of Prototype Festival in NYC this January. Bell, who wrote the music and libretto, was joined onstage by a team of ongoing collaborators. The opera was directed by Tara Ahmadinejad and the cast consisted of fellow performer/creators Ashley Pérez Flanagan, Justin Hicks, Aviva Jaye, and Paul Pinto, who weaved between unusual subsets of instrumentation and staging.
I found the opera extraordinarily moving, thought-provoking, and uplifting with an invigorating breadth of musical motifs, movement, and a dynamically evolving use of text. It was a pleasure to speak with Gelsey Bell at HERE Arts Center about this work. Please find our conversation below – as it's between two composer/writer/performer/editors, it has naturally been minimally edited for clarity.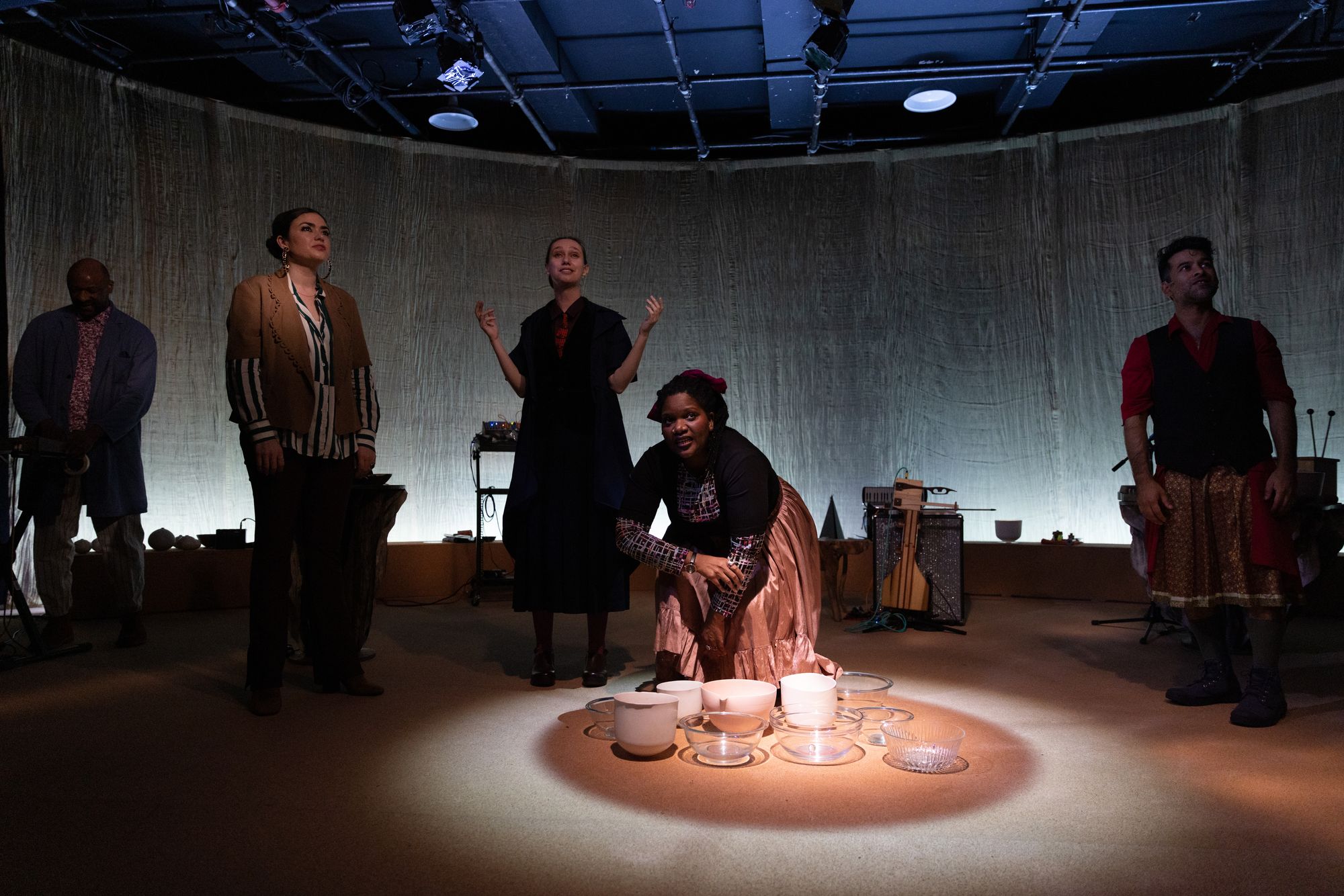 Anna Heflin: To start, I'd love to talk with you about this combination of writing the libretto and composing the music for mɔɹnɪŋ [morning//mourning]. What did that process look like for you and how did the two processes inform each other?
Gelsey Bell: They can dovetail a bit. There's an initial draft of something when I'll write libretto, but a lot of the work is in the editing. For most of the experience, the words and the music don't feel distant from each other. Certainly, part of how the libretto is written and edited is the same way I'm writing music – vocally repeating things over and over again.
AH: Part of why I'm asking about this is because there's so much research that went into mɔɹnɪŋ [morning//mourning]. Some of the libretto felt like intuitively informed text that came out of all your research and some feels pulled directly from the research process. Was there a long process of looking things up?
GB: Definitely. A lot of the research was cut too, there's so much that's not in the piece. There are also songs that didn't make it. I read a lot of notes, interviews, and figured out what things to spend more time with.
AH: Did you make those decisions based on what text or information you found to be musically inspiring? Or was it about finding a narrative?
GB: Initially the idea for this piece came after reading The World Without Us by Alan Weisman. As I was thinking through what it would look like to put that story onstage, I went back to the book and took a lot of notes and began outlining. I then started thinking through what research needed to be updated and what I needed to further research. That led me to three books on octopuses, three books on nuclear waste, documentaries, podcasts, interviewing a physicist – it bulldozed into these other things. I knew pretty early on that I wanted time to move exponentially and that gave a structure to the original outline.  
AH: Were there musical works that you looked at that exponentially pushed time effectively?
GB: I'm sure there are, I haven't thought about it so explicitly. One of the powers of music is to stretch and condense time in a way that's harder to do through just talking. That's why putting this story in a musical form made sense. You can see that in so many examples – the first one coming to mind is the scene in Hamilton when the shot is fired. That is a moment when we see this very small amount of time picked apart. There are other pieces where you have this feeling of great expanse that music is somehow able to afford.
AH: Without 900 pages, which is nice! So, the first word that came to me when watching the piece was "embodied" and it was interesting to me that you used that same word in the Q&A following the performance. Vocal practices are very naturally embodied, but I was specifically noticing your hands and how they were used as an extension of the voice. It felt thoughtful and improvisatory.
GB: Embodiment comes up for me in many different ways and I always think of playing music as embodied. One mode of compositional technique I use is called "embodied songwriting." I don't use it as much in this piece as I do in other works of mine, but I think of that as a mode of songwriting where I'm thinking about gesture, the position of the body, and the movements of the body in the fundamental compositional process. In this piece, some of the gestures [beating on chest, covering the mouth] are in the score and are an essential part of the music. There are other moments when we just allow our hands to be active. Some of that is letting our bodies do what they want to do. Some singers don't naturally want to move as much as I do, but I like to. That was in discussion with the director [Tara Ahmadinejad], when to lean into gesture and how it shows up in all of the singers' bodies.
You don't have access to this post at the moment, but if you upgrade your account you'll be able to see the whole thing, as well as all the other posts in the archive! Subscribing only takes a few seconds and will give you immediate access.
Access all our content
Subscribe now and have access to all our stories, help us stay independent and enjoy exclusive content, with constant updates.