I've been dreaming of the idyllic writers' room from the fourth season of The Marvelous Mrs. Maisel for a few months now. Amy Sherman-Palladino writes a fictionalized version of The Village Voice's West Village office as an intellectual locus, a dank, crusty old space where smart-alecks try to outwit in both conversation and writing.
For music writers, I don't think that room exists anymore — and if it does, only for a very lucky few. But at the Rubin Institute for Music Criticism, the Foo Family Conference Room (or as Joshua Kosman coined it, the Foo Fighters Room) at San Francisco Conservatory of Music's brand-new Bowes Center was an apt stand-in. Every night, we'd file into the wood-paneled room; the hills of Golden Gate Park beckoned outside the 12th-floor picture windows, but we kept our glazed-over eyes glued to our computers. And every night, we'd leave one by one, stumbling towards the bed we'd never needed more urgently.
The Rubin Institute isn't meant to simulate reality — and that's part of the thrill. As the panel of critics repeated, there will never again be a time in our careers where we have to execute four overnight reviews in a row. A few of us drew a parallel to Top Chef, although the critics were thankfully much less cranky than Tom Colicchio after ten hours on set.
I'm honored and flabbergasted to have been named the First Prize Winner of the Institute, following in the awe-inspiring footsteps of my friend and fellow Which Sinfonia founding writer Jennifer Gersten. As some of my colleagues can attest, I cared too much about the prize — I wish I didn't, but laissez-faire has just never been my specialty.
I want to share one of my overnight reviews from the weekend, from a dance party of Afro-Cuban music that was, to say the least, not what anyone expected. But first, some thanks are due. First, to the critics, whose comments were constructive, but never aggressive. Special thanks to Natasha Gauthier of Opera Canada and ARTSFILE, the only critic on the panel with a day job, whose advice seemed uniquely relevant to today's prospects. Second, to SFCM, head administrator extraordinaire Jessica Downs, and her husband, SFCM President David Stull — one of the most talented, persuasive public speakers I've ever seen. The man could sell anything. (That's a challenge, Dave.)
But most of all, thank you to the people who deserve all the recognition: the fellows, the fifteen other people who were crazy enough to put themselves through this ordeal. Thanks to:
Ann Raja Somu for smiling back at my stressed glances as we worked on our opera reviews across from each other until 3am.
Chrysanthe Tan for their witty, fanciful descriptions, and for teaching me how to cook a sweet potato in the microwave — the Rubin Institute was many things, but vegan-friendly was not one of them.
Dalanie Harris for her real talk about the state of classical music institutions (intentionally vague), and for being an absolute Twitter goddess.
Donna Lee Davidson for the best hugs and even better deadpan humor.
Esteban Meneses for always asking the right questions, and for showing it IS possible to look put-together when you're living out of a suitcase (or a backpack, in his case).
Giancarlo Latta for continually reassuring me that, in fact, he did like the part of my review that the critics tore to shreds! (Turns out we're neighbors, too bad for him.)
Helen Wu for being the only other person to say anything negative about Pierre-Laurent Aimard and the San Francisco Symphony's performance of Bartok's First Piano Concerto — seriously, I thought my ears were broken.
Jacob Jahiel for early music geek fests and THE BEST John Rockwell impression.
Lev Mamuya (runner-up) for long chats about duck confit and why we don't play cello in public anymore.
Liam Jankelovics for teaching me about Montreal's rich octobass culture.
Matthew Honegger for always smiling, quoting Adorno mid-review, and deflecting criticisms of his Adorno inclusion with a smile.
Simon Cohen for greeting me with a smile as I lumbered into our shared common room each day — the mornings grew steadily more sluggish, but Simon drinks coffee and I don't.
Stephanie Manning for answering all of my obtuse questions about Cleveland's classical music scene. (Think about it — is there another city with a higher quality of classical music per capita?)
Zach Weiner for his advice on avoiding San Francisco's brutal hills (which we regrettingly ignored), and for being the coolest Zach W. on the premises (sorry, Woolfe!).
Zofia Górnicz for the awesomest music, give it a listen!
And now: welcome to my dream.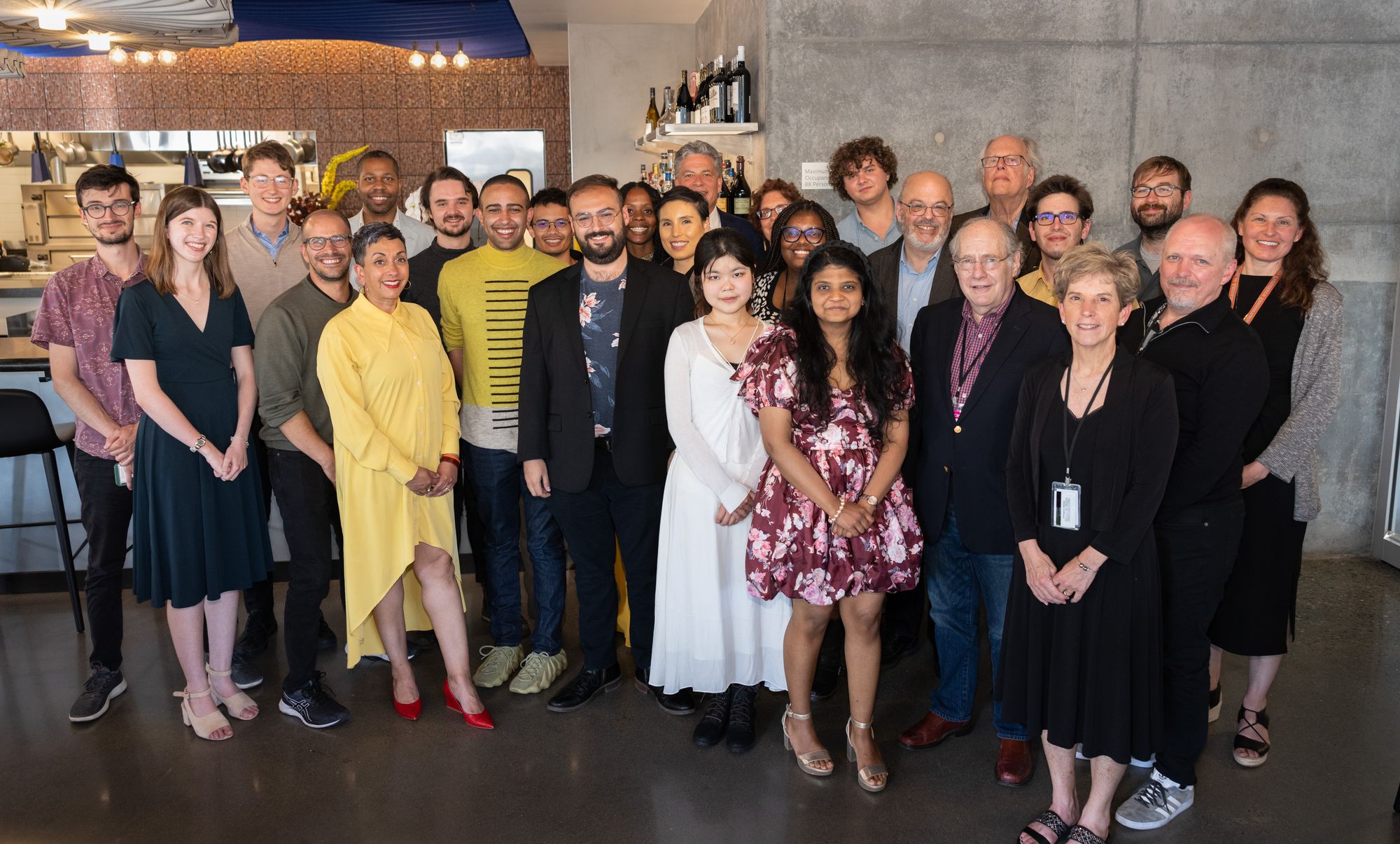 A Dance Party CON TUMBAO at SFJAZZ: In a brand-new outing, Issac Delgado's celebrity band emanates contagious joy
On the evening of June 18, the smell of sweat and mid-shelf tequila hung thick in the air at SFJAZZ's Robert N. Miner Auditorium. The parterre seats had been stowed for the evening, and the not-quite-big-enough dance floor was packed. On one side, couples flaunting well-practiced salsa routines carved improbably large personal-space bubbles; on the other, a throng of twenty-somethings with two left feet tried their best, overflowing cups in hand.
From the stage, Issac Delgado announced the eponymous mission of his new all-star band: to reinterpret Latin classics, CON TUMBAO. Technically, tumbao is a rhythmic figure, a syncopated bass line that grounds many subsets of Afro-Cuban music. But in colloquial circles, the term denotes an easy, sexy Afro-Caribbean swagger that sits on its haunches.
You don't have access to this post at the moment, but if you upgrade your account you'll be able to see the whole thing, as well as all the other posts in the archive! Subscribing only takes a few seconds and will give you immediate access.
Access all our content
Subscribe now and have access to all our stories, help us stay independent and enjoy exclusive content, with constant updates.